Tuesday, March 11
D 9 mars 2014 H 09:13 A Annie Lesca C 0 messages
---
HOLIDAY STRESS MANAGEMENT
Inhale slowly while shrugging your shoulders up towards your ears ;
hold for a count of two ;
slowly exhale while lowering your shoulders down ;
repeat two times ;
open bottle, drink slowly, closing eyes between sips ;
put creature puppet on finger and wiggle until you laugh ;
eat chocolate ;
repeat as needed.


Relax and enjoy the holidays !
At first we spoke about the image and what we knew about BACARDI RUM ; we tried to guess what type of gift was meant.
Then we enjoyed a lot reading in turn the short recipe and trying to understand its humour. But Annie had forgotten to bring us rum and/or chocolate : it was thus impossible to taste this recipe in order to check whether it was successful to get rid of stress.
to inhale / to exhale = to breathe. Yoga techniques to get rid of stress.
to shrug one's shoulders is supposed to be rude and impolite. But it can be used as well as a physical training to get rid of a headache or muscle tensions and contractions around one's head.
It reminded M. of an English song she would sing with her six year old nephew : Heads, shoulders, knees and toes.
We found several translations for the French word antennes depending on its context :
outposts (army)
sub-branches (economics)
satellite dishes
on the air (radio)
aerial
feeler or antena (for snails) -> pronunciation = ænˈtenə
H. noticed that no glass was offered with the bottle and wondered whether it meant that we were supposed to drink rum directly from the bottle.
loud speakers in order to listen to recorded texts
to wiggle = to move from side to side
finger-puppets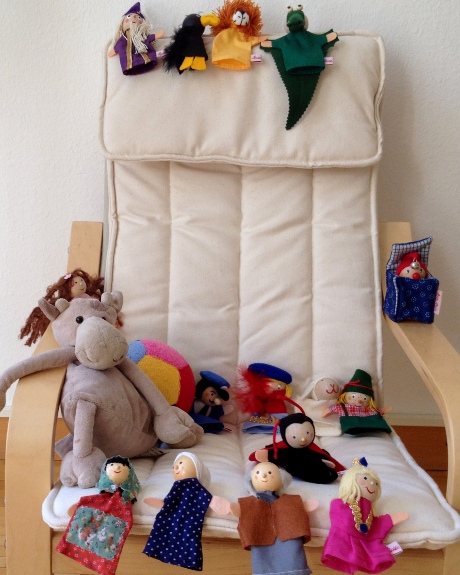 C. bluntly said that wiggling this stupid finger-puppet with antenae would not make him laugh. We answered that it was not the wiggling but the drinking which was supposed to make us laugh... when the bottle would get empty.
Alcohol is called a psychoactive drug, that is to say "a chemical substance that crosses the blood–brain barrier and acts primarily upon the central nervous system where it affects brain function, resulting in alterations in perception, mood, consciousness, cognition, and behavior", after wikipedia.
We all agreed that chocolate is a much better anti-stress medecine and that we all need magnesium !!!
We did some research about the origins of cacao and the name of the Spanish princess who introduced chocolate drinking in our country.
The file-name is "stuff", which didn't help us at all to find out where the picture was taken. So that its mystery remained unveiled.
As a conclusion, we decided that this was a welcome present for a tourist arriving in a hotel for vacations.
M. said they found once a plate full of chocolate bars as a welcome gift in their hotel bedroom when they arrived in Switzerland for vacations.
Dans la même rubrique